By partnering with landowners and supporters like you, we can safeguard the ranches, rivers, meadows, deserts, and forests that make our region so unique.
How We Work
Eastern Sierra Land Trust works with private landowners in our area who wish to explore options to permanently conserve their land. We also assist land management agencies and other organizations to help permanently preserve properties that provide significant benefit to our community.
With experience in protecting working ranches, wildlife habitat, scenic vistas, watersheds, and culturally-important sites, we have the expertise to help you conserve your land for the future.
Why partner with ESLT?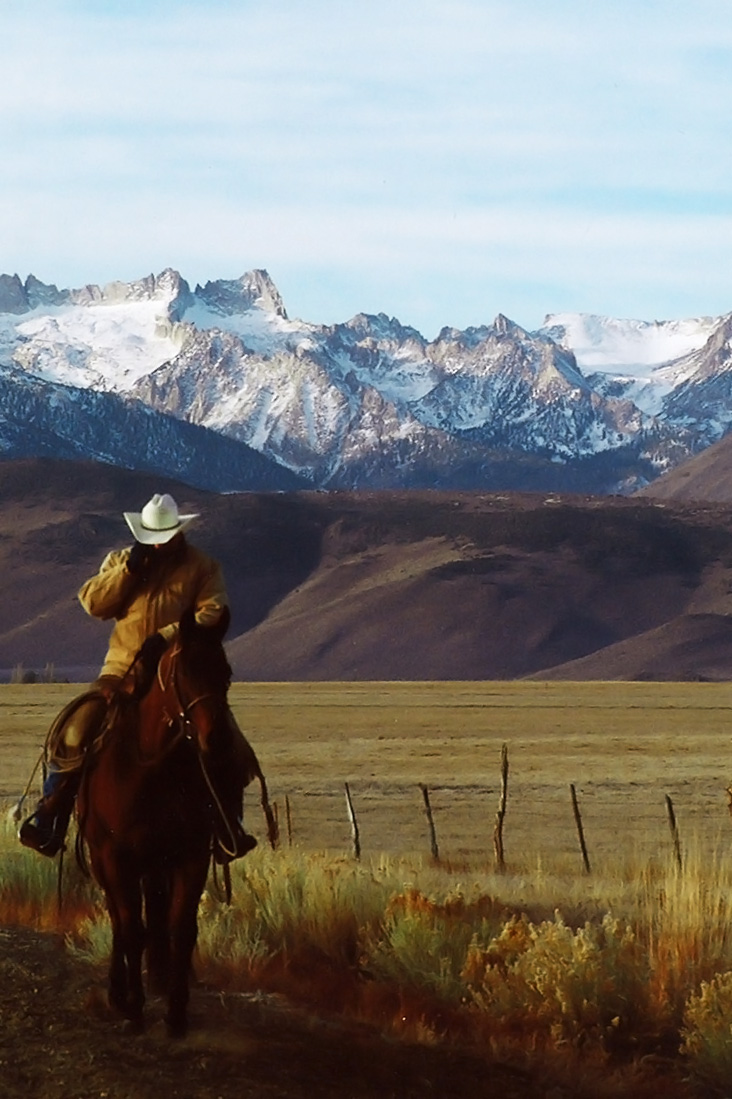 As the only land trust focused exclusively on the Eastern Sierra region of eastern California and western Nevada, ESLT is positioned to make sure that the Eastern Sierra's wild and productive lands remain intact. Our experienced Staff and Board Members provide specialized skills and knowledge of the land's resources, along with an extensive network of connections to agencies, legal experts, and funding sources.
As an accredited land trust, ESLT is nationally-recognized for our rigorous standards of excellence, upholding public trust, and ensuring that conservation efforts are permanent.
ESLT does not engage in public advocacy; instead, we prefer to work directly with landowners who have chosen to build permanent conservation into the future of their land.
What sort of properties does ESLT help conserve?
Since ESLT was founded in 2001, we have completed more than 26 conservation projects and conserved nearly 22,000 acres. Properties protected by ESLT range from five acres to several thousand acres, and include everything from irrigated meadows to riverside aspen groves to open sagebrush steppe.
Each project we take on must have certain conservation characteristics, such as: the need to be safeguarded from inappropriate development, the presence of important natural habitat, a potential for or history of agricultural use, scenic qualities, or the potential for public recreation. By ensuring that these conservation values will be here for the future, ESLT's conservation work benefits private landowners as well as the surrounding community.
How To Conserve Your Land
ESLT's land conservation team can familiarize you, your family, and your advisors with the conservation options available to help you meet your conservation and financial goals.
Our land conservation staff provides free, confidential, and independent analysis tailored to your unique situation. Call, email, or stop by the office to talk with us about the conservation options that might be available for your land.
Is my property eligible for conservation?
ESLT has a standardized process for evaluating each potential land conservation project for feasibility, significant public benefit, availability of funding, landowner expectations, and consistency with our mission and goals. Our Lands Committee and staff carefully evaluate each potential project, with final approval for projects coming from our Board of Directors.
To qualify, your property must have significant value in one or more of the following:
Protection of a relatively natural habitat for sensitive fish, wildlife, or plants
Historic lands or structures
Open space lands, including agricultural land
Public access, recreation, or education
In addition to these attributes, ESLT considers other factors such as size, location, and a property's connectivity to other publicly or privately conserved land.
Once your conservation project has received initial approval from ESLT's land conservation team, we'll work with you to identify the best tool for preservation and to implement a plan for completing your conservation project. ESLT partners with specialized legal counsel for drafting conservation agreements, and we recommend that you bring in the necessary expertise to make sure that your interests are well represented.
Conservation Tools
To help protect the Eastern Sierra's lands, waters, and wildlife, ESLT uses three main tools: conservation easements, real estate donations, and land acquisitions.
CONSERVATION EASEMENTS
Eastern Sierra Land Trust and landowners work together to negotiate land protection agreements that limit future industrial, commercial, or residential development on the land. That agreement is called a conservation easement.
A conservation easement is a voluntary land protection agreement between a private landowner and a land trust such as ESLT. It permanently protects the unique resources and conservation values found on a property – such as its scenic, wildlife, agricultural, ecological, or recreational qualities.
The conservation easement is a tool that landowners can use to help them fulfill their vision for the future of their land. It allows the owner to retain title and management of his or her property, while designating how the land will be used now and in the future. Every easement is different, customized to the specific needs and desires of the landowner. Conservation easements are often donated; in special cases and when funding is available, ESLT is sometimes able to purchase conservation easements from the landowner.
REAL ESTATE DONATIONS
Landowners who want to ensure that their property continues to be protected from subdivision can choose to donate their land to Eastern Sierra Land Trust. For the landowner and their heirs, there are often significant tax benefits.
LAND ACQUISITIONS
In rare cases, when a special property is at risk, ESLT may choose buy the land to conserve it for the future. The decision to buy land is based on the availability of grant funds and conservation priorities for the type of land to be purchased. The purchase price for the land must be supported by a qualified appraisal.
Examples of our criteria for purchasing land include:
Conserves native grasslands, shrublands, and wetlands
Improves access to other protected land
Alleviates threats to natural resources, access, or clean water
Provides opportunities to restore habitat for fish, wildlife, and plants
Expands existing habitat management areas
CONSERVATION ASSISTS
Some properties may be more suitable for protection by partner organizations or agencies. ESLT works in partnership with many other private and public conservation entities to achieve the best fit for each landowner's wishes.